Deliver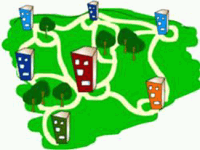 In the book, A Kick in the Seat of the Pants, designer Christopher Williams tells the story of an architect who built a cluster of large office buildings that were set in a central green like the illustration above.
When the contractors asked where they should lay the concrete for the sidewalks that would connect the buildings, the architect replied, "Wait. Just plant the grass solidly between the buildings."
Within months, pathways of trodden grass criss-crossed the new lawn, connecting building to building. These pathways circled trees, bypassed hills, and "followed the most efficient line between the points of connections". Once the pathways had organically taken shape, the contractors came back in and poured the cement.
Instead of providing clean, linear pathways between buildings, the architect allowed the people to determine which path they would take.
This is not much different from working with students to create a Web project. We can help them plan. We can make suggestions for structure, which the students need. We can help keep the students focused on the outcomes. But, when it comes to the process of actually creating the project, you'll find that students will often create their own paths.
The key is to bring the students back to the learning. At the end of the Web project, after the hours of design and implementation, take some time to review with your students just how far they've gone.
This is an important time. We get so caught up in the completion of a major project that we forget the importance of the process itself. For your students, the knowledge and skills gained from working collaboratively on a Virtual Team will prove invaluable in the future.
Good luck!