Deliver
Showtime! Your Web project is almost complete. You have reached the final stages of development. Your project not only looks great, it works great...at least it works great on your local machine.
This final stage requires nerves of steel, patience, and once again...a sense of humor. Delivering your final project to a remote server is not a one step deal. Once it's uploaded, that's when a lot of the real fixing begins. Files that worked great on your system at home all of a sudden start doing mysterious things on a different server. And, you thought you were finished.
Delivering your Web project is comprised of two simple steps.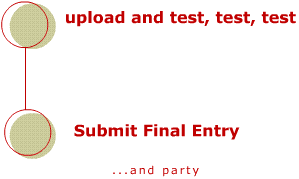 How long this process takes depends a lot on how you have created your project. If your project team followed many of the development guidelines, if you were consistent in all aspects of design, this final phase can be a fairly short affair.
If you have waited until the final week to agree on how you will name your files, you might be in store for some long hours.
The key in Delivering your Web project is to test, test, test. But before you can test your project on the server, you'll need to know how to get it there. The next section will cover in detail the process of uploading your project to a server as well as provide strategies for testing your Web project.