Design
In this stage, your Web project comes to life. All the hours of planning and brainstorming start to take form as your site develops a style all it's own. And, what do you start with...a list of ideas, a timeline, and an idea of what it is you want to do.
In theory, designing your Web project can be as simple as organizing your information, creating the site structure and then filling in the site with content.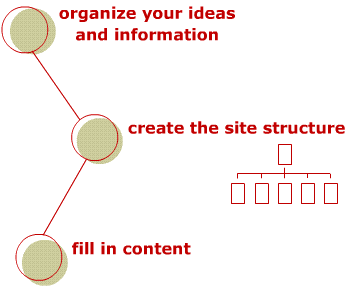 In practice, designing a Web project is never so straightforward.
That's why they call the process of designing a Web site, an iterative process, which is just another expression for "developing in cycles". You create an initial site structure, you fill in the site content, only to realize your missing some parts of the story. You "cycle" back to the initial site structure and revise. This is all part of the process.