Further Reading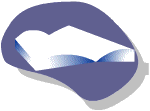 The following books were mentioned in this Define section of this guide. You may find them useful as you develop your Web project:
Lipnack, Jessica, and Stamps, Jeffrey, Virtual Teams, Reaching Across Space, Time, and Organizations with Technology. 1st ed. John Wiley & Sons, Inc 1997.
Muoio, Anna, "They Have a Better Idea..Do You?", Fast Company, August:September 1997, 73-79.
Oldach, Mark, Creativity for Graphic Designers, 1st ed. Cincinatti, OH: North Light Books, 1995.
Additional Readings
Mok, Clement, Designing Business, Multiple Media, Multiple Disciplines 1st ed. Adobe Press, 1996.
Wujec, Tom, Five Star Mind, 1st ed. Main Street Books, 1995.