Allowance...
How Much Is Enough?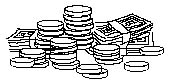 Project Summary
Students write essays on, "Allowance - How Much is Enough," and exchange them among participating schools. Students compare attitudes and practices within and among participating communities.
Suggested Grade Level and Audience
6th through 12th
Estimated Time Required
2-4 weeks
Student Learning Objectives
To communicate knowledge and information to others
To evaluate a situation and provide supporting evidence
To describe personal opinions
To practice writing, editing and revising
To reinforce word processing skills
To communicate with a distant audience
To engage in electronic transfer of information
Procedure
Students in each participating class write essays addressing the questions in the writing prompt. Classes then read and evaluate one another's essays to select the best 5-10 (depending on the number of schools participating) and send them via email to all participants. Each group then reads and discusses the responses received from the distant groups.
This activity will generate many interesting observations, impressions and questions which will lead to further group writing and sharing.
Writing Prompts
Writing Situation
Being a teenager in today's society can be a very expensive period of time. It seems that everyone wants designer clothes, costly skateboards and surfboards, and lots of spending money for movies, concerts and snack foods. Who should pay for all of these "unnecessities" of life?
Directions for Writing
Write an essay in which you discuss whether parents should give their teenagers an allowance. Tell how much of an allowance you feel is appropriate. Make sure that you give lots of evidence to back up your opinion.
Also, discuss how you feel about teenagers obtaining part time jobs to earn extra spending money. If you think teens should earn their spending money, what type of employment should they seek. Give examples of things you feel teens must have money for.
Finally, conclude the essay by listing activities that teenagers can participate in that are fun, safe, legal and FREE!